Click on electrical proposal form image or product links for additional information, current pricing and to place an order. FREE, optional, electrical business logo design!
We have a huge selection of proposals that should suit your specific business needs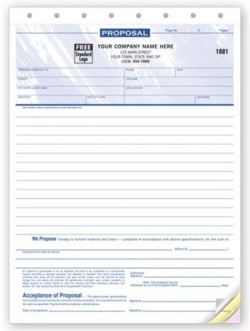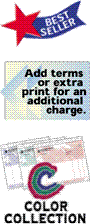 Just for Electricians! Keep accurate records of all your work! Preprinted forms list over 40 common electrical jobs for fast and easy write-ups.
Our best-selling proposal form, in a stylish color format for the professional image you need to win trust & land new jobs!
Proven quality from America's leader in custom printed business forms, with time-saving features & expert personalization trusted by more than 3 million customers like you.
Customer sign-off line & professionally worded disclaimer prevent misunderstandings about acceptance & terms of proposal.
Stay organized. Carbonless forms for clean copies. Consecutive numbering available.
Promote your business. Free personalization includes your imprint plus choice of typeface and standard logo.
Consecutive numbering available. These forms come with the option to have consecutive numbering printed on them.
Upgrades. Additional customization options include imprinting your custom logo.
Add a logo to this product
Choose a typestyle for your company name
Product construction: Snap Sets
Carbon/Carbonless: Carbon
Lined/Unlined: Lined
Click on image or product link for additional information, current pricing and to place an order.