Just for Pest Control businesses!
Click on image or product links for additional information, current pricing and to place an order. FREE, optional, pest control business logo design!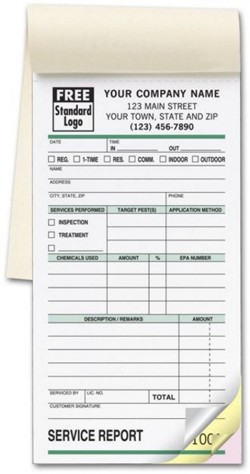 Specially designed pest control reports help you meet regulations, with pre-printed sections to list target pests, chemicals applied, application method and more. Service forms combine professional detail with pocket-sized convenience.
Take complete orders: Preprinted areas simplify write-ups of target pests, chemicals applied, application method, regulatory requirements and more.
Track customer acceptance: EPA-compliant form includes customer signature to prevent disputes.
Stay organized. Bottom copy stays bound in book for a permanent record; 50 sets per book. Also includes a handy 3-year, at-a-glance calendar printed inside book.
Create clean records: Carbonless forms stay tightly aligned for clear, clean copies.
Consecutive numbering available.
Promote your business. Free personalization includes your imprint plus choice of typeface and standard logo.
Upgrades. Additional customization options include imprinting your custom logo.
Add a logo to this product
Choose a typestyle for your company name
Product construction: Snap Sets
Carbon/Carbonless: Carbonless
Lined/Unlined: Lined
Free imprint of business information and optional business design imprint is available along with consecutive numbering for better control of your projects.