We have a huge selection of work orders/invoices that should fit your specific business needs.
Click on image or product links for additional information, current pricing and to place an order. FREE, optional, Road Service Towing business logo design!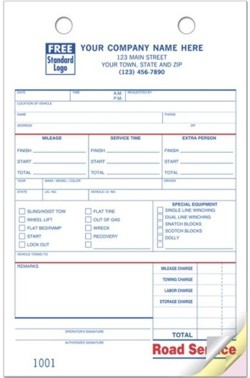 Our popular road service register forms save time in the shop or on the street!
Use this small format billing form for easy writeups of your tow & service jobs!
Works with your portable register to capture details on the spot - no hunting for a handy place to write.
Proven quality from America's leader in custom printed business forms, with time-saving features & expert personalization trusted by more than 3 million customers like you.
Signature line for customer authorization prevents disputes.
Preprinted areas for mileage, service time, special equipment, labor & storage costs, plus much more!
Compatible with 5 1/2 x 8 1/2" portable registers (D925), sold separately.
Consecutive numbering available. These forms come with the option to have consecutive numbering printed on them.
Upgrades. Additional customization options include imprinting your custom logo.
Add a logo to this product
Choose a typestyle for your company name
Product construction: Snap Sets
Carbon/Carbonless: Carbonless
Lined/Unlined: Lined
Click on image or product link for additional information, current pricing and to place an order.