Just for Marine businesses!
Click on image or product links for additional information, current pricing and to place an order. FREE, optional, marine business logo design!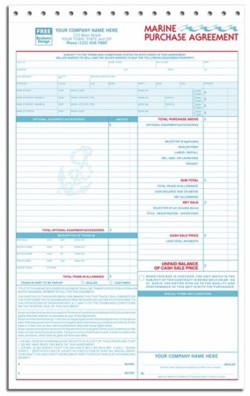 Cover all the details of Marina sales - on one handy form! Preprinted sections for important buyer/seller information, like equipment stock/model numbers, trade-in allowance, title transfer, special terms/conditions & more.
Signature line. Authorized signature line included.
Consecutive numbering available.
Promote your business. Free personalization includes your imprint plus choice of typeface and standard logo.
Upgrades. Additional customization options include imprinting your custom logo.
Add a logo to this product
Choose a typestyle for your company name
Product construction: Snap Sets
Carbon/Carbonless: Carbonless
Lined/Unlined: Lined
Free imprint of business information and optional business design imprint is available along with consecutive numbering for better control of your projects.