Just for Marine businesses!
Click on image or product links for additional information, current pricing and to place an order. FREE, optional, marine business logo design!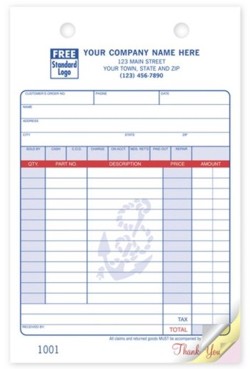 Just for Marinas! So versatile & ideal for marinas! Use for small repairs, charges, cash sales & more.
Compatible with our registers. These forms are compatible with our registers.
Stay organized: Plastic coated wire fasteners and detachable claim checks included.
Track customer acceptance: Signature line for customer authorization prevents disputes.
Create clean records: Carbonless forms stay tightly aligned for clear, clean copies.
Consecutive numbering available. These forms come with the option to have consecutive numbering printed on them.
Promote your business. Free personalization includes your imprint plus choice of typeface and standard logo.
Upgrades. Additional customization options include imprinting your custom logo.
Add a logo to this product
Choose a typestyle for your company name
Carbon/Carbonless: Carbonless
Lined/Unlined: Lined
Free imprint of business information and optional business design imprint is available along with consecutive numbering for better control of your projects.